Andy takes his first win for new sponsor VeloViewer.com at the painfully tough Grizedale Off-road Duathlon.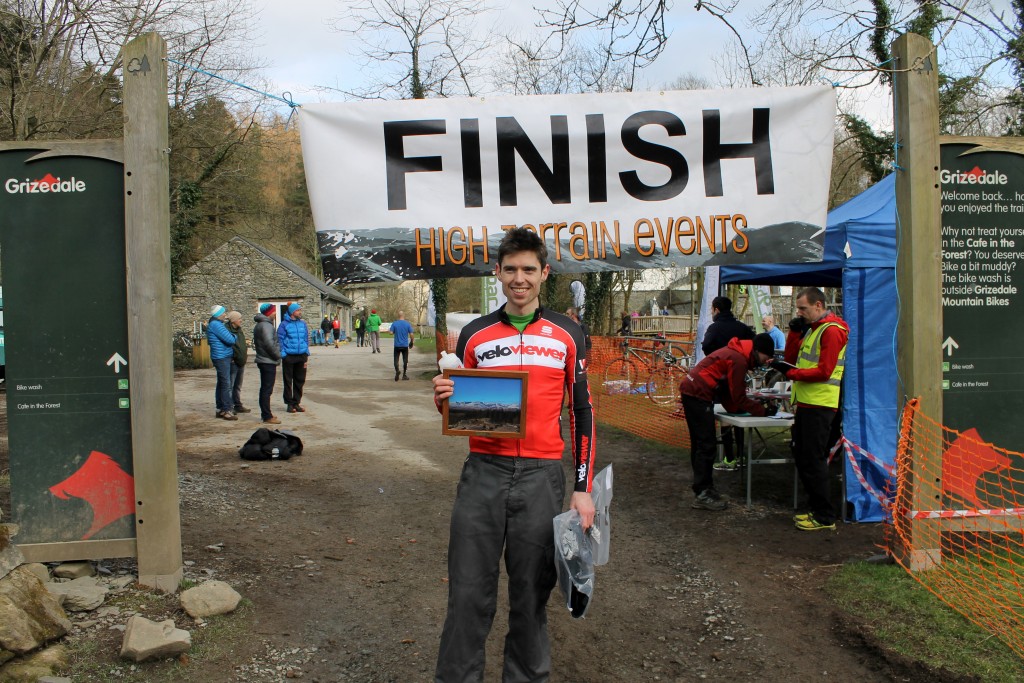 Today was the first outing for me in our new sponsor 'VeloViewer.com' kit, at High terrain event's amazing grizedale race. I've done quite a few of their events now and they are amongst the most painfully tough, but are so much fun, with a really great atmosphere.
Run one was long and hilly. As a marker of things to come the start-line was literally positioned on the steepest grass bank the organisers could find, and everyone seemed to sprint from the gun to get into position on the singletrack. Two really fast runners shot straight off the front, while I settled in at slower pace with Alex in 3/4th. A few bogs later, a lot of up and down and we were back at transition after a steep techy run down some classic Lakeland slate double track.
I knew I'd have to go hard on the bike to catch the leaders and get a good enough lead to hold on in run 2. A lot of the bike was on the North Face red route. It's a difficult track to hold momentum on, and I tried to stay as efficient as possible on the rocky singletrack. I caught the leader about half way round with some amazing views over Coniston to spur me on, despite the pangs of cramp in both my legs. I love the last downhill ino T2 here and gave it some proper beanz, almost out of control as I skidded into T2.
Deja vu back to 2 years ago where Tom Gibbs overtook me in the second run after we fought for the lead most of the way round. So I knew the mission: to stay well ahead of the fast runner in 2nd, and just think about getting to the summit in first place. Once I got there and could still see I had a good lead I knew all I had to do was survive down the slippy, rocky downhill into the finish!
What an event and just so hard, especially pushing through the pain of run 2!
Check out VeloViewer.com for their amazing maps and route profiles of your strava data. Thanks so much once again to the organisers who always do such a great job.