The last time I raced Bontrager twentyfour12 was back in 2013 and I remember arriving there having had to drive through an almost biblical amount of rain and pitching up on a very wet camp site. This year seemed to be history repeating itself with what the news reported to be a months worth of rain falling during the Friday. However, come race day we were briefly reminded that it was still in fact summer and the race started in near perfect conditions. I just pretended not to acknowledge the fact that past midnight things were due to change again…
The course!
The course is great, they really have found a spot on venue that offers everything you'd want for a 24 hour race. There is enough to keep your mind interested with no sections that that I could ever say "I didn't like that bit…" Even the Cliff climb has its rewards. I like how the course weaves through the campsite, it really helps build the friendly atmosphere that this race has.
The Veloveiwer profile below shows how the track offers some good rewards with nice long sections of techy rooty / rocky singletrack with some good tough climbs and steep descents.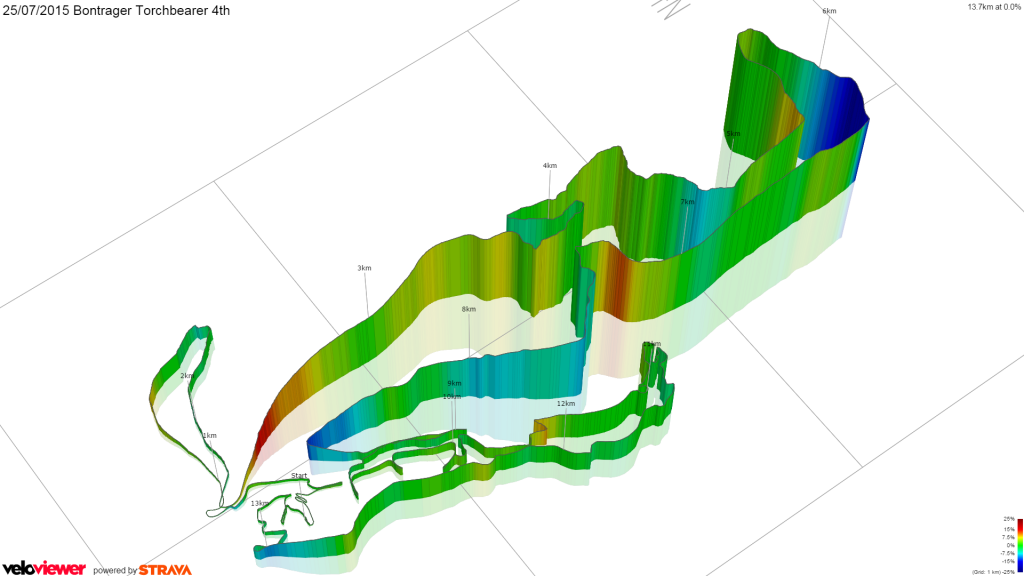 The race!
After a day of watching, shouting and supporting everyone who started at midday I managed to get the bikes sorted and primed, with only a few mechanical panics. During the day It was nice to see everyone's bikes slowly getting cleaner and cleaner. The thought might have even crossed my mind that we might be in for a completely dry race.
After a hours nap I lined up on the start line with all of the other Torchbearers, it was warm it was dry time to get smashing.
The first few laps proceeded pretty quickly, managing to pit on every other lap, but as the night drew on mental fatigue started to kick in. My lowest point must have been around 5, but after some much needed encouragement and a good strong coffee my spirits began to rise just in time for sunrise and the for the rain to properly kick in.
With each passing lap the rained seemed to get heavier and heavier but the course seemed to be able to hold up really well. The roots were slippy and singletrack resembled more a river but the ground kept running surprisingly quickly.
By pretty much the end of the second lap the top 5 riders had managed to establish our positions. Each time I crossed the line I kept giving a glance over to the timing tent that showed how the gaps were being maintained. I felt I would have been losing a fair amount of time on the first part of each lap but would have been making gains in the later parts. A push during the middle part of the race saw my gap to 3rd reduce but a few unfortunate mechanical issues throughout slowed my gains.
Crossing the line at 11.30 and after doing the maths we worked out that 4th place was safe I was able to call it a day.
It was a great feeling to finish such a hard race and to be riding against such strong competition. It was good to remind my body of what it feels like to suffer through the early hours and to successfully push through.
Special thanks to my support crew who pushed me through it and made sure I was in the best possible shape throughout the race and oneathlete for making sure I was in the best possible shape before the race!
Huge thanks to VeloViewer.com for their continued support throughout this season.