What could make a race in heavy rain, 2000m of climbing, mud everywhere, 60km, off-road just a bit more fun?
'Summer tyres and no brakes' you say? Perfect
Whinlatter challenge 2013 results
Team pedal pursuits were out and about in Whinlatter Forest on Sunday trying to have a bit of a bike race. We got there nice and early- Pete possibly the earliest of all at 2:30am! Despite this we both emerged into the 'elite' starting box with about 30 seconds to go before the starting gun, and hence got a terrible start behind the 60 or so other elite riders.
We made up steady places on a long first climb, and pushed hard to try and get amongst it.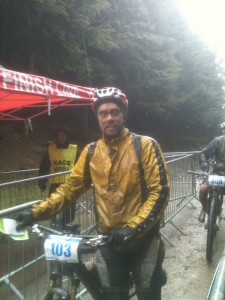 The weather was, as aforementioned, crap. It made everything that bit harder with cold numb fingers, slippery slate below, and mud splattering in our eyes every few minutes. In fact, there was no bodily orifice the mud didn't find. The weather made the prospect of racing difficult and having to catch up the lost time from the poor start seem even more absurd.
Andy actually managed to start to enjoy it with the downhills offering some much needed rewards. The rocky tracks stood up to the rain very well, and fighting for grip and speed on every slight off camber made the long descents properly exciting leaving him buzzing by the end; ready to go and attack the next climb.
Climb, descend, climb, descend, climb, descend, … it was hilly
Andy gradually made up places over the 3 laps and caught his last man on the final hill to finish an astounding fourth place, especially given our poor starting position.
Pete's new bikes wasn't playing nice today and decided to abandon all thoughts of braking power, and so each downhill for Pete was a mixture of foot-out sliding, and fighting to control speed using berms and deeper mud patches! It was amazing he finished 3 laps at all given this all started on lap 1!
The race was billed as 50 km, which turned out to be 60km! But it was great fun considering the conditions.
Andy –I took some offence to being offered only electrolytes drink at the 'food' station. I thought to myself "I've probably got about a kilo of minerals and 'electrolytes' smeared all over my face in mud form, and this is all you can offer when I'd love an energy bar or banana"!
Nor was the irony of the signs 'Hydrate or Die' lost on me as I near drowned in constant rainfall.
Pete- moments after starting I could feel that it was going to he a long race. Jumping straight out if the van and straight onto the bike in the pouring rain doesn't suit me. usually taking at least an hour normally to warm up. With tight legs I started grinding my way up the hills. No problem I thought.. I'll make up for it on the down hills. Ah no maybe not. On the first big descent I lost all power in my front brake and practically all from the rear. Being able to pull both levers straight back to the bars is always a little disconcerting…
Having no brakes should in theory speed you up.. but in wet conditions control is key. By the second lap I was getting used to it and using the banked corners more efficiently. As the race progressed my legs loosened up ans felt more comfortable, I didn't speed up but didn't slow down either.
Time to get some serious speed work in during training sessions its not long till Erlestoke!
All in all, a great challenge (as billed!) despite the terrible weather and a good result early in the season.