Bontrager Twentyfour12 2012 TORCHBEARER 12

Riders ; Pete Crawforth
The Bontrager 24 twelve had always been on my list of races to do and this year with a shift in dates making it earlier than normal it seemed almost rude not to make the trip down to Plymouth to check it out. In preparation for this year's Sleepless in the Saddle the 12 hour option seemed perfect and since the 'normal' (midday start)) category had filled up early the torchbearer (midnight start) option took my fancy. I love riding in the dark, I enjoy staying up all night, this would be a good race!
I had decided when the entries went live that I wasn't going to be doing Mountain Mayhem this year and when that weekend came around it was hit with some of the wettest weather ever. Most events that weekend had been cancelled but unsurprisingly Mayhem went ahead. At the time part of me felt a bit gutted that I had chosen not to go to the race but as the pictures were coming in over twitter I felt I had perhaps dodged a very muddy bullet!
Typically our very wet British summer continued and by the time the weekend of the race came round England had been hit by further rain storms which forced many other events to cancel at short notice. When I set off early Friday morning I optimistically kept thinking "this race is in the south….that's closer to the equator.. its bound to have missed the worst of it!" Sure enough by the time I had arrived at Newham Park the locals began reassuring me that it had been 'pretty much' dry all week and that the course holds up 'reasonably well to wet weather'… there was still hope!
After a very stormy night stopped me from getting much sleep through constantly thinking the tree that I had pitched under was going to fall on top of me. When I woke up I was greeted to a very wet morning. With my race starting at midnight I had a very relaxed day in store that pretty much went along the lines of… Eat, do a practice lap and get very muddy, have a shower, fit the mud tyres!, eat, watch the days tour stage, eat, get a sports massage, eat, do some more bike preparation, eat, get another sports massage, eat a little bit more, have a nap, jump on the turbo for a quick warm up, ride to the start line… Race
Midnight was getting closer and the torchbearers began to line themselves up under the starting arch. The usual 10 second warning was given, gps started, lights turned on… and go we were off. I knew my legs were feeling good, I wanted to do well in this race and leading from the front was my aim. As soon as we were let off I bolted, the only words I then heard behind me was a 'oh bloody hell' this was how I wanted to do it :-). The course left the main arena area and crossed a narrow bridge at that moment I noticed that my main light was off. Quickly turning it back on, it immediately turned off again, on off on off.. ARSE! I turn straight back around and head to the Exposure tent, the guys there obviously saw the urgency on my face and loaned me a replacement, thanks guys!
This wasn't exactly in the game plan! But better it happen at the start than half way round! Making sure I didn't miss any part of the track I made sure I restarted at the beginning of the course, at least now I knew that I had everyone to chase down!
The weather had been pretty much nonstop rain all day and it had taken its toll on the course. The race organisers had taken the right decision early on and closed off some of the worst section and opened up others, this maintained a really enjoyable course that I looked forward to starting every time. I think that was made all the more possible with the right tyres, I went with maxxis medusa which could cut through the very wet stuff and actually find some grip. Still riding determined to close down all the riders who I thought were ahead of me I managed to maintain a reasonably fast tempo up over my first 3 laps. I took a second to look at the timing tent at spotted that I had gained 1st. It turned out I had actually taken 1st by the end of my first lap. It was around the 3rd or 4th lap that my support crew had joined me after making the heroic trip down from Nottingham, this obviously gave me a massive boost and the pit stops became much more efficient. The weather made eating on the bike reasonably tricky since I never really fancied a mouth full of mud every time I went to grab something out of my jersey pockets. Each lap on the bike I managed to eat a mule bar, 4 shot blocks and in the pits I crammed down four or five mouth fulls of pasta which was washed down with a tasty gel.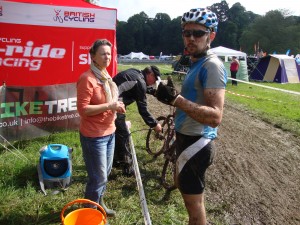 For the first 6 hours I was running on auto pilot the bike was working reasonably well, a few gears would skip but the wheels kept on turning and the breaks where working nicely. During the night laps I rarely kept track of exactly where I was on the track so it always seemed a bit of a shock each time I found that I was on the last down hill, time was passing pretty quickly. When the sun came up I started to look up occasionally, it always surprised me when I saw that there was actually a nice view. But in keeping my head down I was able to maintain a nice and consistent lap time.
Always look forward to the sun rising as your body totally wakes up by this point and the sun was properly out for my 7th lap. However, the feeling of changing into a fresh pair of shorts and a new jersey was probably one of the best highlights of the race. When I hit the first big climb the camera man had his mini helicopter out which closely followed me up the first hill. Feeling obliged to look my best I put a little more extra effort in, hopefully he captured it. 😉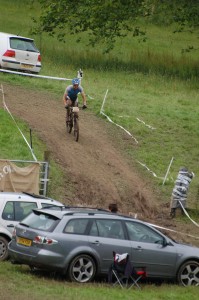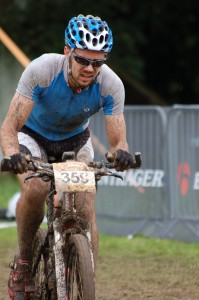 Funnily the last couple of laps where my hardest, I usually look forward to finishing really strong and normally speed up a little but after a lap of really painful stomach cramps and forgetting to have a gel my body was starting to feel the effort. Fortunately I managed to maintain my lap times and it was only when I was within the last 1 km of the last lap, did I realise that it was over and I started to smile again. Now I knew that I was ahead of the torchbearer race in the end I managed to lap second place 3 times, but a big target mine was to put in a competitive equivalent time that would have put me on the podium of the midday starters. By Keeping up a pace that felt comfortable throughout the whole race my time was equivalent to 3rd in the day time starters, which considering my race was almost like a time trial this fills me with a lot of confidence.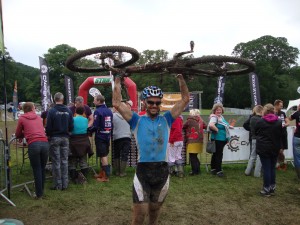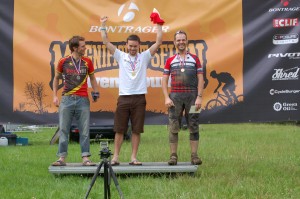 Crossing the finish line and hearing my name being called out as the winner was a great feeling and one that I'm hoping to replicate this year at Sleepless.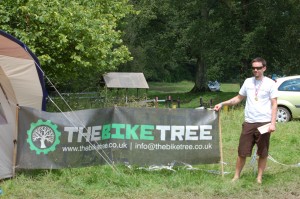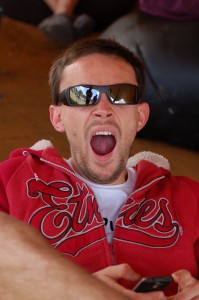 Many thanks firstly to my support crew for making the epic midnight journey down, the bike tree and to the race organisers for putting on a very enjoyable race which I plan to return to next year.