Wow what a race! SPAM Biking Erlestoke Twelve we salute you. 
Riders
Pete Crawforth
Andy Douglas
We had been looking forward to this race pretty much since last year's race finished. Erlestoke offers such a great racing venue with sharp punchy climbs which are duly rewarded with nicely flowing singletrack descents. Even when the racing got really tough, I still couldn't wait to get back out to try and get the next lap nailed just a bit quicker.
In true British fashion the weather leading up to the race had been all over the place. The previous Saturday had been absolutely freezing and I had begun to fear a wet race was in order. However, the temperature began to steadily rise and we were treated with one of the hottest days of the year with hot headwinds, blistering sun and dusty trails, nice.
The track followed pretty much the same route as it did last year with a few well thought out alterations which created a very fast and flowing course. We managed to get in a sighting lap the night before and this fuelled our enthusiasm for what was in store.
Our initial plan was to ride the whole race doing two laps stints, this worked pretty well for us last year but this time round race day was a lot hotter and the temperature was going to keep rising. So we decided not to come up with a solid race plan and to pretty much see how we felt the moment the race started.
Andy used his rapid off the mark skills to get us a great position the moment the race started with a quick lap around the camp site before hitting the track proper. As usual it began with a fast and flowing downhill into the first section of trees which had a couple of sections which required some care to ensure any valuable speed wasn't lost. After a small new field section, which rode faster than initially expected on the practice run, we hit the second singletrack section which was being run in reverse from the year previous, again a faster improvement. Then came the tough field climb which lead onto the heartbreak road climb though light was always at the top since it always seemed that from here it was pretty much downhill all the way. With some of the tightest racing singletrack a lot of time could be lost/gained by hitting the right line and maintaining momentum. This half of the track always made the big smile on my face even cheesier
So by the time Andy completed our second lap and had passed on the baton to me, he had managed to get us ahead of the whole field which was a great feeling but I could feel the riders from Lumicycle and cycleshack powering down. I managed to hold them off for the first of my two laps but half way round my second I had begun to start feeling the heat and after emptying my bottles, drinking became the only thing on my mind. When we transferred Andy shouted exactly what I wanted to hear "single laps from now on!" Since this was the first real heat of the year both of our bodies weren't particularly acclimatised, riding the single laps allowed us to cool our core temperature consume a bottle or two of fluids and whatever food we could stomach. After five laps we were holding a close third spot and the pace wasn't showing any sign of slowing. I suffered a couple of unfortunate crashes which put a bit of distance between us and second but Andy did what he does best and managed to close it again to less than 30 seconds. Then I was hit with a bizarre mechanical which resulted in my chainstay protector being bent, this in turn jammed my cranks solid. I had to turn back into the pits and stop. As I started to assess the damage, a stranger pushed me out of the way picked up my bike and put it on his maintenance stand. He pulled the cranks off and managed to rip the rest protector plate off, quickly reattached the cranks and send me off on my way. All in all I lost just over 5 minutes but as far as I'm concerned that guy saved our race.. So whoever you were THANK YOU!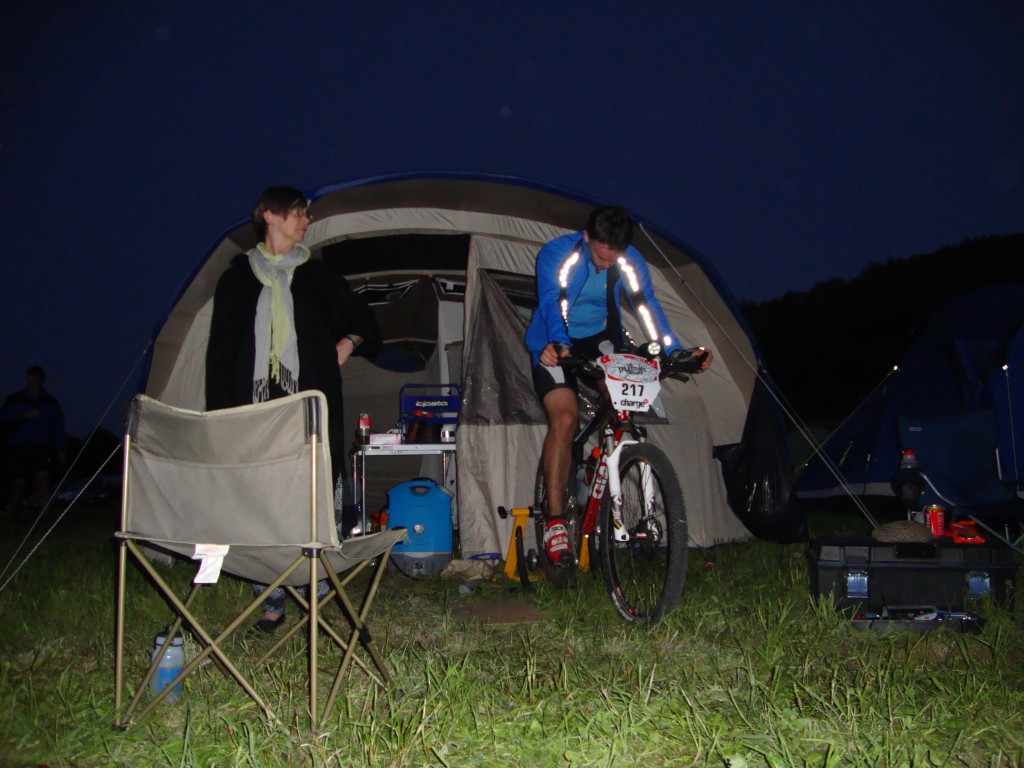 From this point my race began to get a lot better my legs loosening up and the heat cooled down. After a bowl of pasta I went out for two laps which allowed Andy to recover and for him to then power through two laps of his own. From this point we felt we could start making some gains and went back to finish on single laps. We were back up to full speed and feeling happy. Putting in the overtaking move which put us into second felt great. It was a shame that first place had managed to pull out a lead which at this point, incidents aside, couldn't be closed. Their lead had begun to fall from the max of twelve minutes to the finishing gap of just over eight minutes.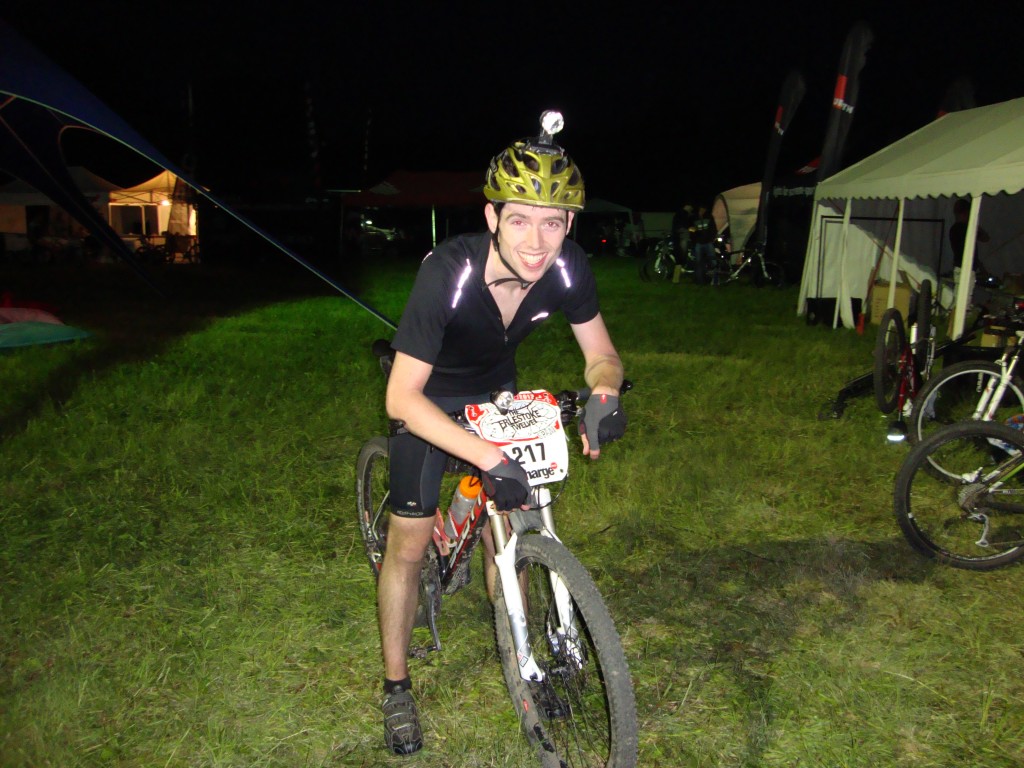 In the end we managed to finish with just over a minute to spare.m and a whole lap over 3rd place. This put us second in our category and forth overall in the whole race, all finishing on the same number of laps.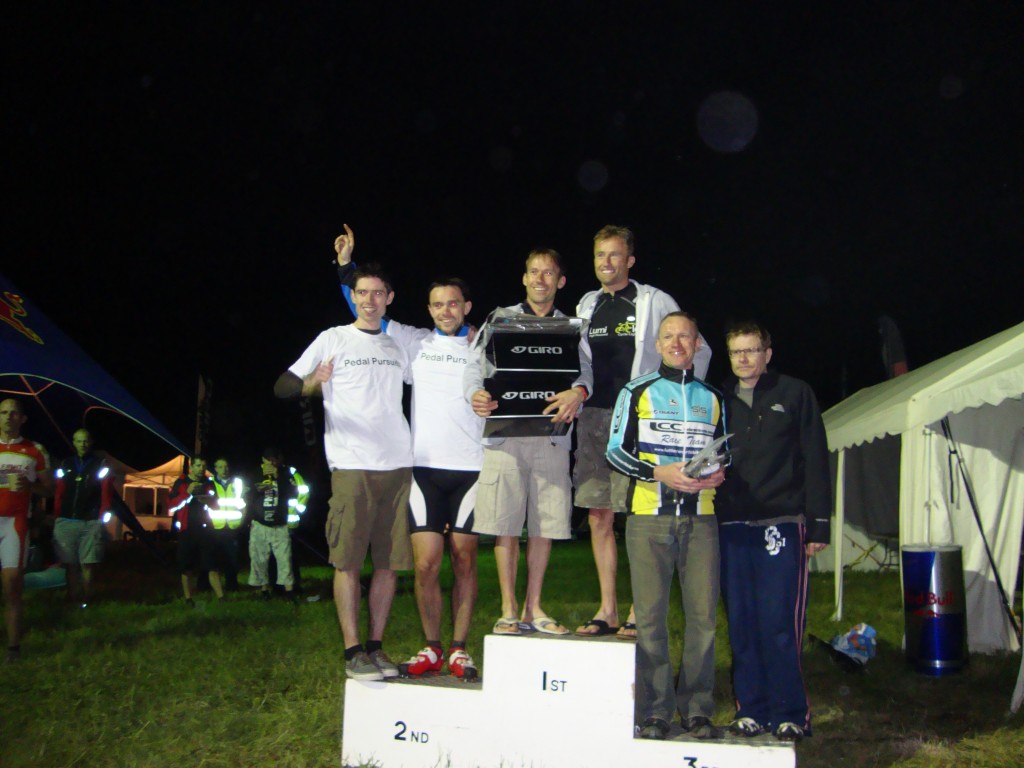 A big congratulations needs to be sent out to everyone who took part, the weather definitely played its part.
As part of our group of riders taking part we also enjoyed great success in the team of 4 6 hour male and female pair Rebecca bright and Lucy Harris both winning their respective categories. 12 hour rookie competitors Tom and Andy 'Yorkshire Gold' put in a solid performance finishing 11th in the pairs event.
A big thanks to the PedalPursuits support crew which managed to make it for the final part of the race their enthusiasm and regimental order managed to lift all of our spirits.
Thanks to SPAM Biking, CHARGE, Red Bull, the marshals and the owners of the land for facilitating one of the best races of the year. Hope to see you all again next year!
…insert your brand here… with consistent results like these PedalPursuits is in search of sponsors.We can offer positive exposure at events like these across the UK.
Contact
Admin@pedalpursuits.com